AUGUST's FREE book:
Blood Red Rose by Isabella Starling
writing as Fawn Bailey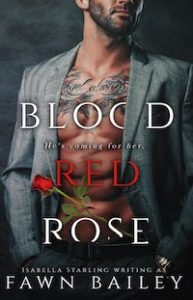 Fall in love with the world of deep, dark secrets and sexy bad men who know exactly what they want and aren't afraid to take it.
I'm a powerful man. Rich, handsome. There are others like me, and we all have one thing in common. One thing we like. Submission. I want you on your knees and asking for more.
I have a set of rules. They are there for a reason – to protect us both. I don't break them. Until her.
Harlow Granger makes me break every. Single. One.
She is an obsession I can't shake. An itch I can't scratch. And finally, a pretty captive I can't resist.
Meet your new owner, little rose. Unlike the other jerks you would have met if I hadn't kidnapped you…
I'll make you mine forever.
---
Want to read this book? You have to be a member of Steamy Calendar Girls Book Club!