JUNE FREE book:

The Power of Three by Kate Pearce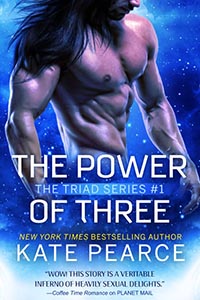 Soreya Lang has never met a male telepath before, let alone one who is willing to die for her on an interplanetary mission gone wrong. Risking everything, she acts on her instant telepathic and physical connection with Esca and encounters a level of psychic power she never knew existed.
Esca can't believe he's finally met the female who will complete his sexual and telepathic triad. He promises himself that if they survive, he'll take her back home, introduce her to his enigmatic First Male, Ash and pray that biology will do the rest.
But nothing is ever that simple, and Soreya, Esca and Ash will have to find their own way through the ties of family and traditions to experience the full telepathic wonder of the power of three…
Warning: This book contains m/m/f sexual situations.
---
Want to read this book? You have to be a member of Steamy Calendar Girls Book Club!